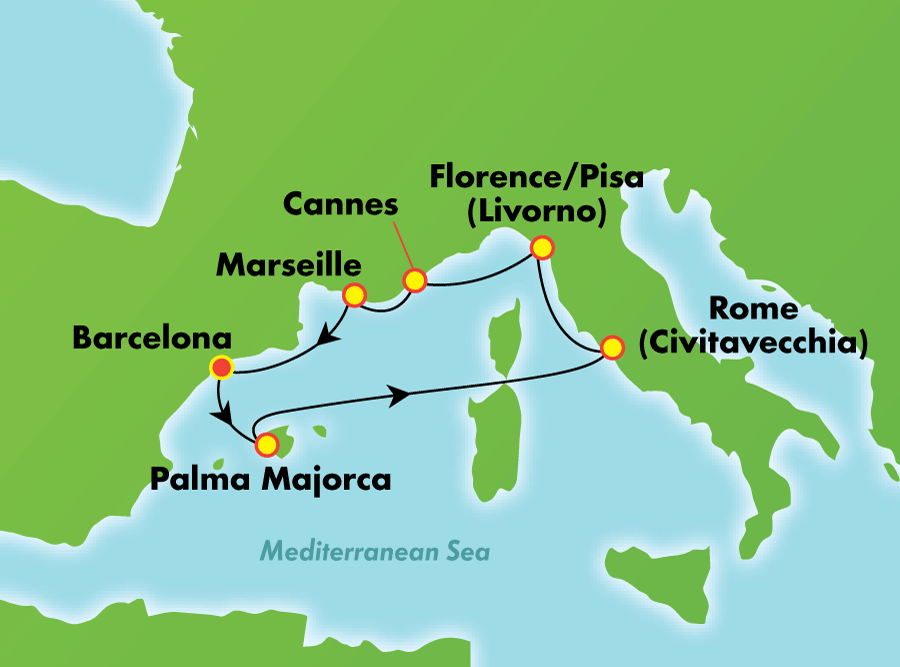 8N Mediterranean
Golf Cruise
​
​Barcelona - Palma de Majorca - Rome - Florence/Pisa - Canne - Marseille - Barcelona
​(Spain, Italy, France)
Norwegian Epic Suite Stateroom!
The best golf courses &
must-see tours of each disembarkation ports!
All inclusive travel!
​
​Experience the quintessence of premium travel!
Day 1 Barcelona, Spain (Departure 6:00 pm)
14:00 Meet at Barcelona International Airport to transfer to Cruise Terminal
​​
​
16:00 Welcome Cocktails & Briefing for a chance to meet your fellow participants
​
Barcelona
The capital of Catalonia, and one of its provinces, Barcelona, is a place of palpable history, where you can lose yourself strolling down the medieval streets of the Barri Gotic. It's a city designed to delight the senses: visit other-worldly Modernista churches like Gaudi's La Sagrada Familia, or treat yourself at a street side cafe to Patatas Bravas or a Passion Fruit Mojito.
Day 2 Palma de Majorca, Spain (8:00 am Arrival / 5:00 pm Departure)
Palma de Majorca
On the one hand, this city, founded by the Romans some 2,100 years ago, is replete with (literally) wall-to-wall history and architectural splendor. You can journey back in time and wander the mazes of alleyways and cobblestone paths that surround the Gothic cathedral. On the other hand, Palma is bustling with life, showcasing the island's best restaurants, shops, nightlife and a vibrant art scene. Explore more of Palma on a European cruise!
Arabella Golf Club (Son Muntaner Course)
Located in a unique spot between the mountain chain of "Na Burguesa" and the Bay of Palma, surrounded by a beautiful Mediterranean environment, Son Muntaner offers for golf enthusiasts a wide range of strokes, and is in fact a real challenge for every player independent of the handicap. A special design, remarkable greens and an eye for the detail is fascinating for every golf player who visits the Island.
At hole 15 you discover 'Na Capitana', the 1000 year old olive tree, unique on the island, and landmarked by the local Government of Palma de Mallorca.
In 2009 Son Muntaner hosted the "Mallorca Skins Game", with famous players as José María Olozábal, Justin Rose, Martin Kaymer and Robert Karlsson.
Son Muntaner has a driving range, a putting green and a pitching area.
The first day at sea. No golf. No sightseeing. No worries. Here's your chance to reset with the help of four restaurants plus cafes and lounges, a pool, sun decks, a spa, fitness center, jogging track, hair salon, shops, casino and cabaret lounge.
Day 4 로마 Chvitavecchia(Rome), Italy (6:00 am arrival / 7:00 pm departure)
Rome
Endless adventures await in Rome. With two and a half thousand years of history, art and culture, it is no wonder Rome is one of the most visited cities on the planet. Gaze at the masterpieces of the Vatican or walk into the past with visits to ancient relics, historic monuments and legendary museums. Or people-watch while sipping on an espresso in a quaint cafe.
Marco Simone Golf Club
The Marco Simone Golf & Country Club, official home of the Italy 2022 Rome Ryder Cup bid, is a green oasis of relax just a few miles from the centre of Rome and is considered one of the most prestigious golf course in Italy . The course offers 27 holes and the view of St Peter's Dome from several sites, that adds excitement to the game.
The Marco Simone is a showcase of worldwide scope and it has been the venue for the Italian Open. It is ideal for all golfing enthusiasts, therefore, but also for those who love the quality of a healthy, sporting life-style.
Marco Simone GC is named after an 11th century castle that is located right on the course with its tower visible from many holes (today Marco Simone Castle is the house of the golf course owner, fashion designer Laura Biagiotti).
Some of the main features of Marco Simone are the spaciousness of the property with great views of the surroundings and the breathtaking views of the Eternal City from the highest tee boxes. In a clear day Rome and St. Peter's Basilica can be seen from the 17th and 18th tees.
Day 5 Livorno(Florence/Pisa), Italy (7:00 am arrival / 7:00 pm departure)
Florence / Pisa
How lucky to visit the Tuscan region, Florence & Pisa, resplendent in art and history. What's even more fortunate is that all the main attractions in Florence are centrally located for the perfect walking tour. See Santa Croce, Piazza del Duomo and Michelangelo's David.
​
Circolo Golf Ugolino
The Circolo Golf Ugolino is located in one of the most beautiful areas of Tuscany: in the picturesque hills in Chianti. The club has a long history, since it was founded in as early as 1933. The 18 hole championship course of the Circolo Golf Ugolino is very hilly and interesting for every handicap category with its water hazards, bunkers and doglegs. The greens and fairways of the renowned club are very groomed and the ambience is familiar and friendly. From the course one has a unique view of the beautiful landscape with vineyards and the mountains in the background. The athletically ambitious club is one of the most famous clubs in Tuscany. It organizes numerous tournaments and is known for its warm atmosphere.
Day 6 Cannes, France (8:00 am arrival / 6:00 pm departure)
Canne
Drive up Suquet Hill for a view of the city, sea and Lerins Island - fabulous dahling! How many rich and famous can you spot, walk the palm-lined promenade de la Croisette and count. The French Riviera at its best...the International Film Festival calls this home.
​
Terre Blanche Spa Golf Resort
Terre Blanche is for the golf lovers one of the most prestigious golf in the world. Our two 18-hole championship golf courses(The Chateau Course & Riou Course) were designed by Dave Thomas and inspired by the natural surroundings. They perfectly blend into the landscape. Their beauty and high quality as well as their perfect maintenance are truly impressive. The courses are well-integrated at the heart of a preserved site. This paradise for golfers combines performance and pleasure of the game in a stunning environment.
THE CHÂTEAU COURSE
The 18-hole course is 6616 metres / 7235 yards long and is the most demanding of the two courses. The bunkers and greens enable players to experience the true playing conditions of a championship course. Le Chateau course stands out for its spectacular water features. Each year in September Le Chateau Course hosts the 'French Riviera Masters', the only Senior European Tour championship in France. The course is ranked N°14 in Continental Europe by Golf World. Its lovely hilly spaces are accessible to golfers with a handicap/index under 35.
Day 7 Marseille, France (7:00 am arrival / 4:00 pm departure)
Marseille
Located on the Mediterranean coast, Marseille is the oldest city in France and was founded in 600 BC. Among the many terracotta-roofed buildings lies many intriguing sights including the Cathedral of Notre-Dame-de-la-Garde. Other places well worth visiting are the city of Avignon and the quaint villages of Le Baux & Aix en Provence.
​
Pont Royal
Pont Royal is ideally situated in the Commune of Mallemort, between Aix and Avignon, 30 minutes from the TGV stations and the airport Marseille –Provence. The golf course offers great views of the Alpilles, the Luberon and the valley of the Durance.
Beautifully maintained, the golf course of Pont Royal will reach its 25th birthday in 2017 and is open for all golfing visitors. It offers a real challenge to players of all levels thanks to its large and numerous tee boxes and the variety of shots to play.
It offers an excellent test of golf in all seasons attested by the organisation, most years in October, of the Masters 13, a prestigious tournament on the calendar of the European Tour.
In 2010 Pont Royal Golf Club constructed and equipped a centre for golf training. The Durance, comprises a six hole course almost 1000 metres in length, a practice driving range, 3 greens for practising approach shots and a 300 square metre putting green. Also there is an area of 1.5 hectares dedicated to the short game with 5 greens.
The teaching is undertaken by the Golf Academy of Pont Royal and the David Leadbetter Academy both offering modern teaching methods at the cutting edge of technology, designed for beginners, established golfers and for the pros on the circuit.
Disembark after breakfast
​​
Sightseeing(non-golfers)/Golf play(both course) after disembarkation
​
Barcelona
The capital of Catalonia, and one of its provinces, Barcelona, is a place of palpable history, where you can lose yourself strolling down the medieval streets of the Barri Gotic. It's a city designed to delight the senses: visit other-worldly Modernista churches like Gaudi's La Sagrada Familia, or treat yourself at a street side cafe to Patatas Bravas or a Passion Fruit Mojito.
​
PGA Catalunya Golf Course & Resort
This spectacular and imposing course has been consistently ranked among the best ten golf courses in Europe since it was opened in 1999 and was recently voted #77 in the world, #3 in continental Europe and #1 in Spain. As the venue for numerous PGA European Circuit tournaments, it is also routinely singled out for praise from the professional playing fraternity.
There are two exceptional golf courses at PGA Catalunya Resort; The Stadium Course, ranked the No.1 course in Spain, No.3 in Continental Europe and No. 92 in the World, and the Tour Course, which provides constant challenges and spectacular holes to delight players of all levels.
Designed by Ryder Cup star Neil Coles MBE and former Spanish winner Ángel Gallardo, this spectacular course has consistently been ranked among the 10 best golf courses in Europe since it opened in 1999. Conceived as a venue for world-class tournament golf, The Stadium Course has twice hosted The Spanish Open, winning plaudits from some of the world's best players. Dramatic elevated tee shots are a feature of the course, with tree-lined holes cutting a path through pine forest to large, undulating greens protected by lakes and bunkers. Recently upgraded and lengthened to 7,333yds from the championship tees, this par-72 course is one of the most exhilarating experiences in European golf, with different tees and multiple pin positions for all discerning golfers. The signature 13th hole commands wonderful views of the Pyrenees' dominating Montseny Massif.
While the Stadium Course throws down a serious golfing challenge, the Tour Course offers players an opportunity to enjoy a friendlier par-72 layout, set amid lakes and pine trees. Opened in 2005, this slightly shorter and more forgiving course is another Ángel Gallardo and Neil Coles creation, and a perfect complement to the demanding Stadium Course. While the picturesque front nine meanders through pine forest with strategically placed bunkers, the back nine opens out onto rolling golf holes that ride the contours of the estate and its lakes. Risk-taking players are rewarded here, especially on the par-5 holes, where there is space to open the shoulders from the tees and attack the greens. Popular with members and visiting golfers, this beautifully conditioned course has co-hosted European Tour Qualifying School Final Stage since 2008, so a high quality experience is assured.
​
Hotel Check-in and dinner
Transfer to Barcelona International airport after breakfast
​
​​
Arabella Golf Club - Son Muntaner
PGA Catalunya - Stadium Course
Norwegian Epic Information (Click below link)
​
​
https://www.ncl.com/au/en/cruise-ship/epic#highlights
​
The Norwegian Epic is just that, an epic experience for a cruiser to encounter. The 4,100-passenger ship is truly a floating city with restaurants featuring cuisines from all around the world, like Wasabi Sushi Bar and Moderno Churrascaria. At night you can enjoy something a little different like a performance by the Blue Man Group, the avant-garde blue-faced actors. Looking to hear some great music? Check out Fat Cat's Jazz & Blues Club where the rhythm is contagious.
Epic_Highlight_Priscilla_Queen
ShipsGallery-Epic-H2O-Day
ShipsGallery-Epic-SpiegalTent2
ShipsGallery-Epic-Bowling
900x312_Epic_Meta_MiniSuite
INCLUSIONS
7N Norwegian Cruise Epic (Suite stateroom - upgrade/downgrade available upon request)
7 rounds of golf as specified in the itinerary and return transfer to & from the port for golfers
Return transfer between the airport and the cruise terminal
6 Shore excursions for disembarkation days for non-golfers
Electronic cart hire or pull buggy when a cart is not allowed at the course
Use of on board entertainments, activities and kid club
All meals within the itinerary including disembarkation days
1 N post-cruise accommodation at 5 star hotel in Barcelona, PGA Catalunya
Daily onboard newspaper announcing daily activities and entertainments
Cruise gratuities on board
Port fees & taxes
Chance to win a complimentary tour certificate
Gala Dinner
​​
EXCLUSIONS
International airfare
Personal allowance
Alcoholic drinks
COMPETITION & PRESENTATION
Callaway Scoring System
1st player at each round - souvenir for each course
NTP at each round
Sweepstakes Draw at Gala Dinner
1 x Cruise Voucher $1000
2 x Cruise Voucher $500
3 x Cruise Voucher $300
​
​
​
* Price is per person based on double occupancy and price for 3rd and 4th person in the same stateroom will be quoted upon request.
* Price quoted is based on Suite stateroom category and upgrade or downgrade to a different category will be quoted upon request.)
* The desired cabin category may not be able to book subject to availability of the cruise lines thus it is always recommended to plan and book early.
* Non-golfers will enjoy a sightseeing tours of the region for the disembarkation days.
* The scheduled golf courses may be substituted with another course of similar level subject to course availability.
* Inclement Weather Play will continue rain or shine unless weather conditions put the player at risk of danger or the course closes.)
* Guaranteed departure for 12 or more travelers
* Cancellation Terms
More than 120 days prior to sailing - deposit
120-91 days prior to sailing - 25% of total price
90-61 days prior to sailing - 50% of total price
60-31 days prior to sailing - 75% of total price
30 days or less prior to sailing - 100% of total price